As some of you are aware, I have recently re-located from the deserts of Arizona to the Outer Banks of North Carolina. This are was a hotbed of activity early after the Americans joined World War II during the Battle of the Atlantic. The areas just off shore were known at the time as the 'Graveyard of the Atlantic' due to the ferocity of the German U-Boat attacks and America's early inability to stop them. This post isn't meant to argue the grand strategy of the Battle of the Atlantic, but focus on one small part of the overall campaign that had a profound effect on the local inhabitants of this area. Which to some some degree still does today. More specifically I'm referring to the sinking of the HMT Bedfordshire and the establishment of British military cemeteries on American soil.
I previously lived in this area during the summer of 1999 and that was when I first was exposed to significance of the area during World War II. I read a book that summer by Homer Hickam aptly titled
"Torpedo Junction"
. This book is an excellent account of the America's early war experience against "Admiral Doenitz's Wolfpack". Hickam pulls no punches when it comes to the ineptitude of the American Navy's early efforts against Germany and for the misplaced priorities of the American Navy's high command, specifically Admiral Earnest J. King's emphasis on the Pacific War versus the Atlantic war. He is also very upfront about the American high commands lack of willingness to accept the help and advice from the Royal Navy, despite the fact that it had been fighting the U-Boat since 1939. The book is an excellent resource and when telling the story of the HMT Bedfordshire and I will quote it pretty extensively throughout this thread. I encourage anyone interested in the Battle of the Atlantic to read this book.
Early in June 2006, I took a trip down the length of the Outer Banks, camping out for a few days and visiting all the places I hadn't seen since 1999, and during that weekend I re-read "Torpedo Junction" and I took a few a photos. All pictures below that are not source quoted were taken by me.
Most folks are unaware that there are British servicemen from World War II buried in cemeteries along the Outer Banks of North Carolina. The most notable of which is the Cemetery located on Ocracoke Island. This Cemetery is listed on the Commonwealths War graves commission website
here
.
This Cemetery is described by the CWGC as:
This cemetery contains the graves of four Commonwealth sailors (two of them unidentified) who died when the armed trawler HMT Bedfordshire was torpedoed in May 1942. A perpetual lease for this tiny site was granted by the North Carolina State Property Office in 1976, making it probably the smallest Commission cemetery in the world. The cemetery is maintained on the Commission's behalf by the US Coastguard.
It is basically British territory on American soil. Every morning, a contingent from the U.S. Coast Guard Station at Ocracoke raises a British Flag over the cemetery, and retires it every night at dusk.
From the book Torpedo Junction by Homer Hickam….



At 1400 on May 11th, Captain Krech heard the sound of propellers. Coming to periscope depth, he saw two small vessels coming toward him. Every crewmember of the U-558 involuntarily shuddered when they suddenly heard the 'ping' of British ASDIC. Whatever the vessels were, they weren't merchantmen. They were obviously U-Boat hunters of some sort.

Krech took the U-558 down and waited. Four hours later he heard depth charge detonations in the distance and then more propeller sounds. Fearful the vessels might be closing in on him, he waited for an hour before coming to periscope depth to look around. The sun was just setting and silhouetted against the horizon were two patrol vessels, still in a search pattern. It was obviously only a matter of time Krech realized, before these two persistent vessels would find him. He made a decision. He would wait 45 minutes and then come to the surface and make a run for it using his diesels. This he did, heading south at U-558's maximum speed of 18 knots.

Lookouts on the conning tower called Krech's attention to a flashing white light behind them. The light was switched off, but Krech ordered the lookouts to continue their launch. It was apparent something was following them. After running for two hours, the lookout called to Krech again. They had spotted a ship coming up on their stern. Krech followed their pointing fingers with his binoculars. There! Whatever it was wasn't gaining on them. But it was definitely following. It was also small and all alone. Krech found it hard to believe such a ship would dare chased him. Perhaps, however, he was being chased into a trap. In that case there was only one thing to do. Kaptianlieutenant Gunther Krech was never one for running. Sinking ships, and kind of ships, that was his specialty. Krech turned the U-558 around. He was going to take the small warship on, one on one.

The U-558 slid under the waves while Krech turned his white cap around and swung his leg over the seat behind the attack periscope in the control room. He grasped the handles on the periscope and swiveled it around. As his U-Boat got closer, he recognized his quarry. It was one of the British anti submarine trawlers. That explained its aggressiveness. When the trawler was 1000 meters away, Krech ordered two torpedoes fired and then took his U-Boat down to await the sound of their explosions. After several minutes, however, it was evident that the torpedoes had missed. Cautiously Krech took the U-558 back up and took a look around. The trawler was still there and now barely 600 meters away and turning in Krech's direction. Had he been seen? He didn't wait to find out. He made a quick calculation, lining the U-558's bow directly toward the trawler. "Los!" Krech snapped and a third torpedo was on its way.

This time, Krech didn't take his U-Boat down. He didn't dare. He had to see what happened to the trawler. If this torpedo missed, the British were going to be right on top of him. A man was behind Krech, quietly counting, an infinity seeming to pass between each second. At count number 36, there was a huge explosion. The trawler had turned at the last moment and the torpedo had caught it squarely amidships. The trawler, which was the Bedfordshire, was thrown up onto her bow, her stern jerking upward. Krech blinked and in that instant, the Bedfordshire was gone, leaving nothing but a spreading wake over the rippling sea. The soundman below reported scraping sounds, the noise of a dying ship going down to its grave. Remembering the other patrol vessel that had been with the trawler, Krech took the U-558 down and headed south. The last signal the Bedfordshire had sent out had been a routine message at 1512 Eastern War Time, 11 May, 1942. As far as the U.S Navy knew, the Bedfordshire was still on her patrol south of Cape Lookout. She had no set time to call in. HMT Bedfordshire was dead and no one knew but Gunther Krech and the men of the U-558.
The HMT Bedfordshire was one of 24 trawlers, converted from fishing boats into anti submarine vessels that were loaned to the United States beginning in 1942. Manned by British seaman and placed under American control, their primary duties were to assist with patrol and escort duties of the Atlantic coast of the United States.
HMT Bedfordshire
source: www.royal-naval-reserve.co.uk
The HMT Bedfordshire was built in 1935 and was commissioned as an anti-submarine trawler in 1939. The Bedfordshire was a coal burning vessel who was very lightly armored that was 162 feet in length who displaced 443 pounds and possessed a single 4 inch gun. The ship was commanded by Lieutenant R.B Davis and had a crew of 35 men.
to be continued...

From the book Torpedo Junction by Homer Hickam….



Three days passed it was spring along the North Carolina Capes, a beautiful but capricious time of gusty winds and sudden storms. On the morning of 14 May however, the sky was clear and blue. Only a slight breeze occasionally rippled the fields of sea oats growing wild among the sand dunes of the Outer Banks. A single Coast Guard truck traveling slowly down the beach was the only thing disturbing the peaceful morning. Inside the truck were two young Coast Guardsmen, one of them Arnold Tolson, a native of the nearby Buxton. At about 0700, Tolson thought he saw something in the surf. It appeared to be a man waving. Tolson knew it couldn't be a swimmer. There was no one who lived anywhere nearby, and anyway, the sea was too cold at that time of the year. No, anyone in the sea off the outer banks that morning was either crazy…or dead. Tolson stopped the truck and jumped out. At the surf, he took off his shoes and waded out until he reached the body. It was fully clothed in what appeared to be a black uniform. Tolson and the other Coast Guardsmen loaded the body in the back of their truck and took off towards the Ocracoke Coast Guard Station. Before they got there, however, a local fisherman stopped them and told them he had also seen a body in the surf, near the inlet. Tolson turned his truck around and turned back towards the point, searching the wave carefully. Before too long he saw it. Tolson again waded out and retrieved the body, loaded it in the back of the truck, and headed once more for the station. The chief of the station, Homer Gray, took the two bodies and placed them in a room at the back of the station and then called Navy headquarters in Moorehead City to report what happened.

In Moorehead City it was Aycock Brown who was ordered to respond. He procured an amphibian aircraft from Cherry point and flew to Ocracoke where Gray met him and took him to the back room of the station. When the tarpaulin covering the two bodies was thrown back, Brown started at the sight of one of them, a young man with a beard. "I know that man," he gasped, "He's from the Bedfordshire!"

It was Sub Lieutenant Thomas Cunningham. Papers in the man's pocket confirmed it. Sunglasses and a bank book from a Moorehead City bank were in his Royal Navy sweater and a Moorehead City newspaper was in his hip pocket. There were no wounds on the body at all.

As required by regulations, Brown gently removed Cunningham's sweater and his shoes for identification and placed them along with the papers and personal effects into a small box… A local doctor, Charles L. Swindell, was called in to determine the cause of death. Since there3 were no external wounds, Dr. Swindell concluded that the men had probably been killed by either concussion or drowning or both. After Dr. Swindell left, Brown turned to the next step: Burial. Regulations, as well as Outer Banks customs required burial as soon as possible. There were no morticians on the Outer Banks, and Dr. Swindell had estimated that the men had been dead for several days. Some sort of arrangements would have to be made immediately.

Aycock Brown and Chief Homer Gray had initiative. Gray remembered that two large wooden boxes had recently been found near Ocracoke. These boxes, in shape and size similar to coffins were called by the locals "battery" or "sink" boxes. Duck hunters would lie on their backs in them while floating beside their decoys and then, as the ducks approached, would rise up and fire away. To assure propriety, the Ocracoke Postmaster, considered by all to be the local authority on all things legal or otherwise, gave his considered opinion that the boxes were abandoned property and could be confiscated for any use by the Coast Guard.

The funeral was solemn and dignified, as befitted two heroes who had come from a foreign land to protect American lives and property. Plots were donated by the Williams family beside their own in the little Ocracoke Cemetery. A U.S. Coast Guard acted as pall bearers, and the caskets were draped in two of the Union Jacks that Cunningham had given Brown earlier. Amasa Fulcher, a lay preacher for the Methodist (and only) church in Ocracoke, conducted the service and even sang an appropriate hymn. It was, in many ways, a typical Outer Banks funeral given by a people who had known all their lives the hardships rendered by the sea.
Ocracoke British Cemetery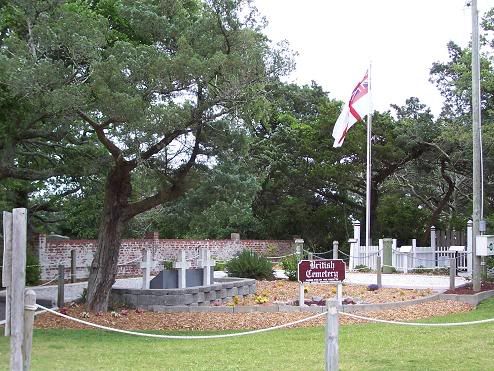 Overview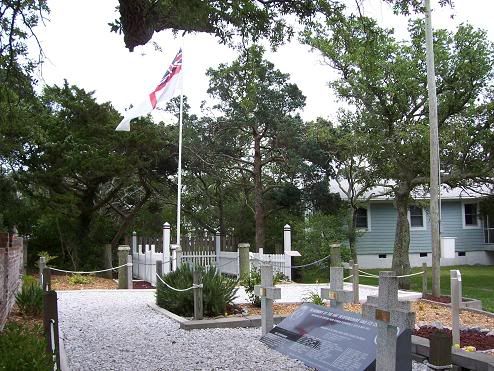 Approaching the Markers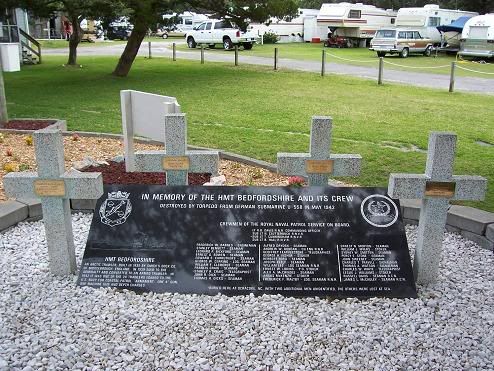 Monument on the pathway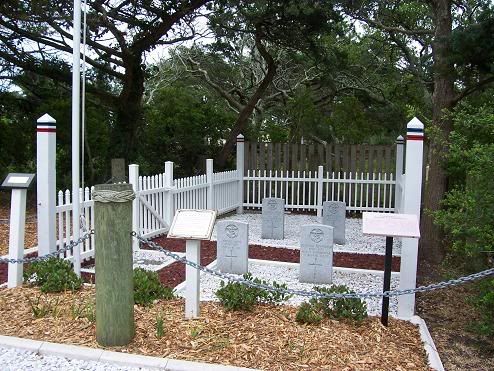 Markers overview
to be continued...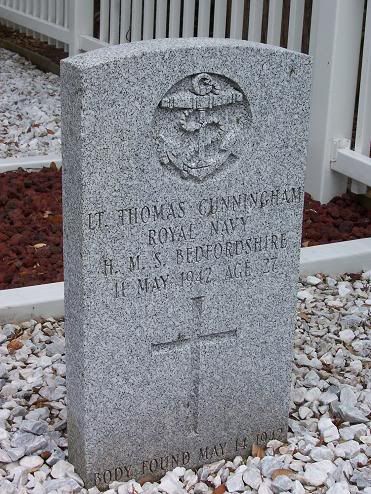 Thomas Cunningham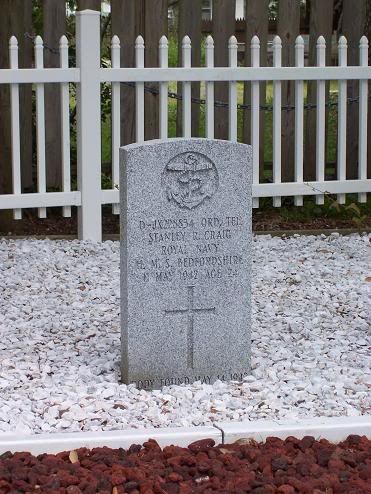 Stanley Craig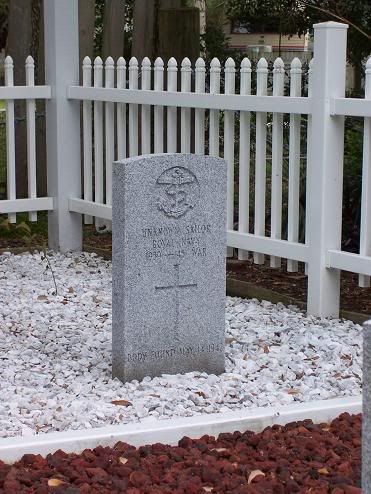 Known but to God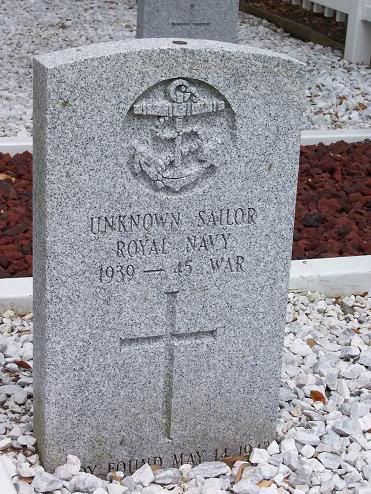 Known but to God
Charles White
http://i7.photobucke...2006/BARNES.jpg
Frederick Barnes
http://i7.photobucke...OVERVIEWONE.jpg
As you may have noticed, there are actually six marker's located in the cemetery and not four as which is listed on the CWGC website. I'm still doing research into the details behind the markers for Frederick Barnes and Charles White and I hope to update that information here accordingly.
From the book Torpedo Junction by Homer Hickam….



After the funeral Brown finally got around to calling his headquarters to report what he had found. He was greeted with consternation. The men could not be from the Bedfordshire, he was told sharply. There had been no distress call from that ship. She was still on patrol. When pressed by Brown, the officer at headquarters went to check his file. When he returned, he was more sympathetic. The last time anyone had heard from Bedfordshire had been 11 may. Perhaps she had indeed run into trouble. Or, maybe, the officer brightened, the two men had simply fallen overboard and drowned! Brown could only shake his head at that idea. It was not feasible that two trained British seamen were going to fall overboard and be left by their mates to drown. It would not be until 16 May that the Navy would finally admit that the Bedfordshire was missing in action and probably lost.

A week later, Arnold Tolson, on board the U.S. Coast Guard patrol boat 63-067, would again have an encounter with the crew of the British trawler. On patrol 5 miles northeast of Ocracoke inlet, the little 63 footer hove to beside two floating bodies, and Tolson helped pull them aboard. They were in bad condition, but Tolson recognized them by their dark blue turtleneck sweaters. They were men from the Bedfordshire. Aycock Brown was again called to make identification. These bodies, however, proved to be too deteriorated to positively identify. Also no "battery" boxes were available, but the men at the Coast Guard station knew of a local resident who had, some years earlier, purchased a supply of lumber to build a new outhouse. The man was approached. Since he had never gotten around to using the lumber as he intended, would he be willing to donate some of it to build caskets for two of our valiant allies? The man quickly agreed, and several local carpenters volunteered to do the work. Another Outer Banks funeral was held and the two men were laid to rest besides Cunningham and Craig. Two more bodies would be found from the Bedfordshire. One, identified as Seaman Alfred Dryden, would be found in late May and interred at the Oak Grove Baptist cemetery in Creeds, Virginia. He would be buried with full military honors, with a contingent of officers and men from other British trawlers in attendance. The last body, only tentatively identified as a Bedfordshire crewman, was buried near the coast Guard Station at Cape Hatteras. All the other Bedfordshire crewman remained missing forever.
Unaware for the first few months I have lived here, but the Creeds British Cemetery is located only about 20 minutes from my house. The British graves are together inside the normal cemetery for the church. Despite being visible from the roadway, if one didn't know what one were looking for one would never notice the difference. I had ordered some small British flags to place on the gravesites for the recent British Veteran's Day but I did not receive them in time. I plan to return on Remembrance Day to pay my respects.
Creeds British Cemetery
http://i7.photobucke...2006/DRYDEN.jpg
http://i7.photobucke...6/DRYDENTWO.jpg
Alfred Dryden
In addition to Alfred Dryden, three members of the HMT Kingston Ceylonite are also interred in Creeds. The HMT Kingston Ceylonite was also a anti-submarine trawler. It was lost on June 15, 1942 off of Cape Henry, Virginia after striking a mine which was laid by U-701. Eighteen of her Thirty-Two crew were lost.
http://i7.photobucke...2006/MARKER.jpg
http://i7.photobucke...6/STUBBSTWO.jpg
http://i7.photobucke...2006/STUBBS.jpg
JD Stubbs
http://i7.photobucke...2006/FARREL.jpg
http://i7.photobucke...6/FARRELTWO.jpg
John Farrall
http://i7.photobucke...6/TURNERTWO.jpg
http://i7.photobucke...2006/TURNER.jpg
Harold Turner
The Hatteras British Cemetery is located within the Cape Hatteras National Seashore near the famous Cape Hatteras lighthouse. The Cemetery is maintained by the National Park Service. It is a very small and non ostentations cemetery located just off the roadway down a short wooded path. It is marked by a simple sign on the roadway and my best guess is that it is a seldom visited are of the Seashore.
Hatteras British Cemetery
http://i7.photobucke...VERVIEWFIVE.jpg
http://i7.photobucke...OVERVIEWTWO.jpg
Overview
http://i7.photobucke...ERVIEWTHREE.jpg
http://i7.photobucke...2006/UKNOWN.jpg
Known but to God
http://i7.photobucke...2006/CAIRNS.jpg
Michael Cairns
Michael Cairns was a crewmember on the merchant ship SS San Delfino which was sunk carrying fuel oil on April 10, 1942 by U-203. Out of her crew of fifty, twenty-eight were lost.
From the book Torpedo Junction by Homer Hickam…



Other trawlers would yet die in the battle and all of them would be battered and wounded, but still they would fight the U-Boats. They were slow and ungainly and easily sunk, but in many ways, they would have the Royal Navy's finest moments ever in American waters. Each day they went out to meet and enemy that was bigger, faster, more heavily armed, and able to remain hidden until it was ready to strike. Even though they would receive more casualties than they would inflict, they kept coming, fighting America's battle. They were indeed, the "bravest little ships."
'Bravest little ships' indeed…..
Casualty List, HMT Bedfordshire. Published in June 1942.

Lt. R.B. Davis, RNR (In Command).
Temp. Sub. Lt. H. Clutterbuck, RNVR.
Temp. Sub. Lt. B. Hall, RNVR.
Temp. Sub. Lt. T. Cunningham, RNVR.
F.W. Barnes, Engineman.
S. Bennett, Ordinary Seaman.
L.P. Bickford, Seaman.
E.S. Carruthers, Ordinary Seaman.
G.W. Cerrino, Leading Seaman, RNR.
W.F. Clemence, Ordinary Seaman.
F. Cragg, Ordinary Seaman.
S .R. Craig, Ordinary Telegraphist.
J.R. Dick, Seaman.
T.M. Dicks, Ordinary Seaman.
A. Dryden, Seaman.
A.W. Duncan, Chief Engineman, RNR.
G. Featherstone, Ordinary Telegraphist.
G.H. Fisher, Stoker 2nd. Class.
H. Ford, Seaman.
J. Kelly, Seaman.
W. Lee, Leading Seaman, RNR.
E.W. Lukins, Act. Stoker Petty Officer (Ty).
A.A. McCrindle, Seaman.
A. McKenzie, Stoker.
F.F. Maltby, Leading Seaman, RNR.
E.N. Morton, Ordinary Seaman.
W.J. Myers, Stoker.
S.W. Smitten, Ordinary Seaman.
P.E. Stone, Seaman.
C.T. Travell, Ordinary Signalman.
C.W. White, Ordinary Telegraphist.
L.J. Williams, Stoker, 2nd. Class.
R. Davis, Ordinary Seaman, RCN.
J.L. McCauley, Ordinary Seaman RCN.
T. A. Watson, Ordinary Seaman
http://i7.photobucke...EVERENGLAND.jpg
Every year during early May, on the Friday that is closest to May 11, a remembrance ceremony is held with full representation from the U.S and the U.K. On May 13, 2005, for the first time, a relative of one of the sailors interred was able to attend the ceremony. Thomas Cunnigham, Jr., son of Sub Lt. Thomas Cunningham, was in attendance. Mr. Cunningham was born about 5 months after his father was killed on May 11, 1942. Apparently, some of the local residents have maintained a relationship with the Cunningham family throughout the year's but this was the first time anyone from the family has visited the gravesite.
Farewell
Son makes pilgrimage to grave of father killed in WWII action
May 14, 2005
http://i7.photobucke...unninghamJr.jpg
Retired Royal Navy Reserve Commander Tom Cunningham, left, was not yet born when his father's ship was sunk by a German U-Boat off Ocracoke Island during World War II. He visited his father's grave for the first time Friday.
Source: Virginia Pilot

BY CATHERINE KOZAK - THE VIRGINIAN-PILOT - OCRACOKE ISLAND

The son of a British sailor who died off the coast of the Outer Banks during World War II on Friday visited his father's grave for the first time during the annual British Cemetery Memorial Service.
Tom Cunningham, 62, was born about five months after his father's body was found near an Ocracoke beach on May 14, 1942, after the British trawler Bedfordshire was torpedoed by a German U-boat three days earlier.
Cunningham's father, Sub-Lt. Thomas Cunningham, is one of four Royal Navy sailors buried at the small cemetery in Ocracoke Village.
Cunningham, a retired Royal Navy Reserve commander, said that time and circumstance had kept him from seeing the grave in person, but he had been familiar with it from photographs that islander Fannie Pearl Fulcher had sent to his mother, Barbara.
"We've always had a strong kinship with Ocracoke through her," said Cunningham, who traveled from Blackpool, England for the ceremony. "She was a lovely lady. She used to send me clothes and toys."
Fulcher, who died several years ago, maintained a correspondence with the family for years. Her father, a Methodist minister, helped arrange a Catholic service at the grave site as Barbara Cunningham had requested, said Earl W. O'Neal, an Ocracoke historian and author.
The well-attended morning service at the cemetery included the tra- • Reach Catherine Kozak at 252-441-1711 or at cate.kozak@ pilotonline.com. Additional placing of wreaths by the Coast Guard, which maintains the site along with the Graveyard of the Atlantic Museum in Hatteras.
A total of 37 men in the British and Canadian navies went down with the Bedfordshire, which was one of 23 vessels that Great Britain sent to counter the submarine threat off the United States coast. More than 50,000 men from the Royal Navy perished in the war.
A new granite marker with the names of the Bedfordshire's sailors was dedicated during Friday's ceremony.
"Bedfordshire left behind a bleak and badly bombed Britain," Royal Navy Captain John Gower, assistant naval attache at the British Embassy, told the crowd at the cemetery. "Of course, her people left behind family and friends as well, but on her arrival her ships found, in the U.S. and Canada, immense warmth and friendship – the same sentiments that we visitors to your country find today and which keeps the bond between our countries as strong as ever."
http://i7.photobucke...tCunningham.jpg
A photo of Sub-Lt. Thomas Cunningham in the pilothouse of the British trawler Bedfordshire
source: Virginia Pilot
I though I would add this in as well. The text of a speech made a British Admiral during the 2004 ceremony. Very fitting.Speech at the cemetery made in 2004
Captain J H J Gower Royal Navy OCRACOKE 7 May 2004 -

RADM Brice-O'Hara, Lt Abeyta (acting Hatteras Group CO), Petty Officer Sinclair (Ocracoke OC), honoured guests, gentlemen of the US Coastguard, ladies and gentlemen.

Thank you all for being here today; for me, it is a very great privilege to stand before you once again at this very special place in this beautiful village. It is also a privilege to meet so many friends, some old and some new. And I am honored to be speaking on behalf of the British and Canadian Navies at this important and meaningful event.
First and foremost, we are here to remember the 37 British and Canadian men who died just before midnight (local) on the 11th of May, 1942, when their armed trawler, HMS BEDFORDSHIRE was torpedoed a few miles off shore; the first of seven ships to be sunk during a very successful war patrol by the well-led German submarine U-558. 4 of those men rest here.
The Bedfordshire story has however, some even more enduring messages than the horror of war, which we should rightly and proudly remember. It represents the inseparable links between our 3 nations. It also signifies a great courage both militarily and politically. We should not underestimate the political courage in Canada to enter the war alongside Britain, or of President Roosevelt in instantly providing succor and vital support. BEDFORDSHIRE and 23 sister vessels came to America to work for the USN in countering the submarine threat along these coasts.
The feeling and emotion toward the events leading to her sinking are, I believe, perfectly summed up in Mr. L Vanloan Naisawalds' book "World War II on the outer banks" as he says:
"The story of the BEDFORDSHIRE highlights the deep affection felt by a group of Americans for the crew of an obscure little ship that scarcely rated being called a war vessel, though technically she was one. Only a few people had ever heard of H.M.S. BEDFORDSHIRE, either in her homeports of Great Britain or in her temporary home in the United States.
Her name would not find its way to the pages of World War II history books beside the names of such illustrious British men-of-war as H.M.S.'s HOOD, PRINCE OF WALES, EXETER, and a score of others whose sheer size and flaming heavy guns earned them a place on a printed page. But she earned a different kind of memory-a most warm and personal one in the hearts of the people of North Carolina's Outer Banks-and her memorial is this small four-grave cemetery on Ocracoke Island, wherein one of her officers and three of her crew rest peacefully in the shade of overhanging live oak, juniper, and yaupon. The site is a spot beautiful in its simplicity, and the story of how it came into being is one of sorrow, of compassion, of kin ship, of the appreciation one group of people felt for another they had never met. But the common bonds of the sea and of ancestry between the British seamen and the islanders of Ocracoke probably ensure that there will always be this warm feeling for the cemetery."
Before arriving off the E Coast, BEDFORDSHIRE left behind a bleak and badly bombed Britain. Of course, her people left behind family and friends as well, but on her arrival her ships company found, in the US and Canada, immense warmth and friendship. The same sentiments that we visitors to your country find today and which keeps the bond between our countries as strong as ever. In BEDFORDSHIRE's case, we are reminded of that strong bond, typified by the friendship of Telegraphist Craig, here buried, with the Rycroft family of New Jersey, a brief but close relationship, perhaps typical of the war years.
And of S/Lt Cunningham, who also lies here and his close friendships with Mr Aycock Brown, Mr Howard and Mr Austin, all from this area. Then there were the people who struggled to make sure that the right thing was done for these foreign mariners, sailors who had lost their lives while trying to protect those of others off this very coast. People, without whose tireless efforts and outright compassion, we might not have been standing here today; people such as the Williams, the Fulchers, the Howards, the Tolsons, the Willises' and all the islanders of Ocracoke.
Thanks to the good people of Ocracoke, both Craig and Cunningham, along with their shipmates have a permanent home, far from home, but among friends. And the links with the ceremony yesterday: as it was for the burial of the dead of the SAN DELFINO that SLt Cunningham landed the British flags, he added a couple of extra flags, little knowing they would be used on his burial almost exactly a month later.
I would also like to remember the 3 dead from a sister Armed Trawler, HMS Kingston Ceylonite (sunk by a mine laid by U701) whose graves are in Virginia Beach; close by another Bedfordshire crew member lies.
And so we come down to the present day. Our 3 Nations still stand together militarily and politically as strong now as in those bleak days. As we look back, and remember the events of May 1942, let us also hope that the courage and determination and unity of purpose symbolized here, may endure long into the future.
For "they shall grow not old as we that are left grow old, age shall not weary them nor the years condemn, at the going down of the sun, and in the morning we shall remember them" – the well known words of Binyon ring through the years, yet they explain exactly why ceremonies like today are so vitally important for the generations that have not experienced the intense horrors of war.
I believe this was the true goal of the officers and men in BEDFORDSHIRE – it was their fervent desire that their families would never have to face war again. Therefore, I would like to offer our sincere thanks to the United States Coast Guard and the Graveyard of the Atlantic Museum for the careful upkeep of this cemetery. Its pristine appearance truly honours those that gave their lives for King and country, while simultaneously causing visitors to pause and reflect of the sacrifice of these brave souls. But for the majority of the ship's company in BEDFORDSHIRE, there is no visible resting place, no field of blowing poppies to mark their place, save the remembrance by their fellows and those, like us, who pause to honour their memory. Thus this cemetery holds even more special meaning.

Finally, from both the Royal Navy and the Canadian Navy, I would like to express our genuine thanks to the Commander of the USCG Group Cape Hatteras for work done on behalf of the War Graves Commission, Ensign Carrie Schaffer, the project officer and the caring citizens of Ocracoke and the wider Outer Banks Community, particularly Joseph and Melanie Schwarzer of the Graveyard of the Atlantic Museum, for their continued and unstinted efforts to keep the memory of those who perished alive. From the bottom of my heart, I thank you.
A Miraculous Escape
From www.harry-tates.org.uk...
On May 10th 1942, Sam had been on shore leave and was due to join the Bedfordshire the next morning. That night while leaving a bar in Morehead City, he was arrested by two policemen and locked up in a cell without an explanation.
The next day on May the 11th, HMS Bedfordshire, with their stoker still missing, went out as usual and patrolled the coast. During that night her luck suddenly run out and she was torpedoed and sunk by a U-boat. All 37 crew were lost and only four bodies were ever recovered from the sea.
Meanwhile after being released with no charge, Sam had been trying to join his ship.
"I never did know what the Americans were going to charge me with. I spent a night in the cells and they let me out and the American soldiers took me down to the dock to join the Bedfordshire ... but she had gone to sea. We had to go aboard another boat to go and look for the Bedfordshire. They were going to take us out to join the ship at sea but when we got there ... there was no trace of her at all."
Although at the time, Sam realised he had a miraculous escape, even to this day he never forgets the crew of the Bedfordshire.
"I think they were a dam good crowd, we lost a good bunch of lads. You can always easily replace a ship but not 35 men. Why I kind of missed that boat is another story only him up there can answer I presume".
http://www.harry-tat...aphics/sam1.jpg
Source: www.harry-tates.org.uk
The U-558
Construction began on the U-558 on Janmuary 6 1940. The boat was commissioned on Febraruy 20, 1941 and performed a total of ten war patrols. During its war patrols it accounted for the sinking of 17 merchant ships and two 2 warships, with another 3 ships listed as damaged or total losses.
The U-558 was sunk on July 20 1943 by depth charges from a coimbined British and American aircraft attack in the Bay of Biscay of the coast of Spain. The boat was manned by a crew of 50 and it went down with 45 dead and 5 survivors, including its Captain Gunther Krech. He spent the rest of the war as a POW in Britain.
http://www.harry-tat...hics/gkrech.jpg
Gunther Krech, KaptianLieutenant of the U-558
Source: www.harry-tates.org.uk
Krech was also awarded the Knight's Cross on September 17, 1942
Bedfordshire Wreck Discovered
The remains of the HMT Bedfordshire were discovered off the coast of North Carolina about 25 miles southeast of the Beaufort Inlet. Today, it is a popular diving site.
The wreck is lying in 100 feet of water in three separate pieces with two of the pieces within 75 feet of each other. The third section is 200 feet away. The damage from the torpedo has been described as by divers as' extensive'. The highest part of the wreck is only four feet. There are beams, deck plates, pipes, and pieces of machinery scattered about the sand and there are still six depth charges lying visible on the bottom.
http://www.bbc.co.uk...180_180x149.jpg
Source: BBC
http://www.discovery...ges/lookout.gif
Source: Discovery Diving
Sources:
Torpedo Junction
, by Homer Hickam; Dell Publishing, copyright 1991.
http://www.royal-naval-reserve.co.uk/
http://www.harry-tates.org.uk/
http://www.bbc.co.uk...e_feature.shtml
http://freepages.gen...sire_speech.htm
http://www.cwgc.org
http://villagecrafts...en_archive.html
http://epilot2.hamptonroads.com/
http://uboat.net/
http://www.ubootwaffe.net/
http://www.discoverydiving.com
Enjoy!!!